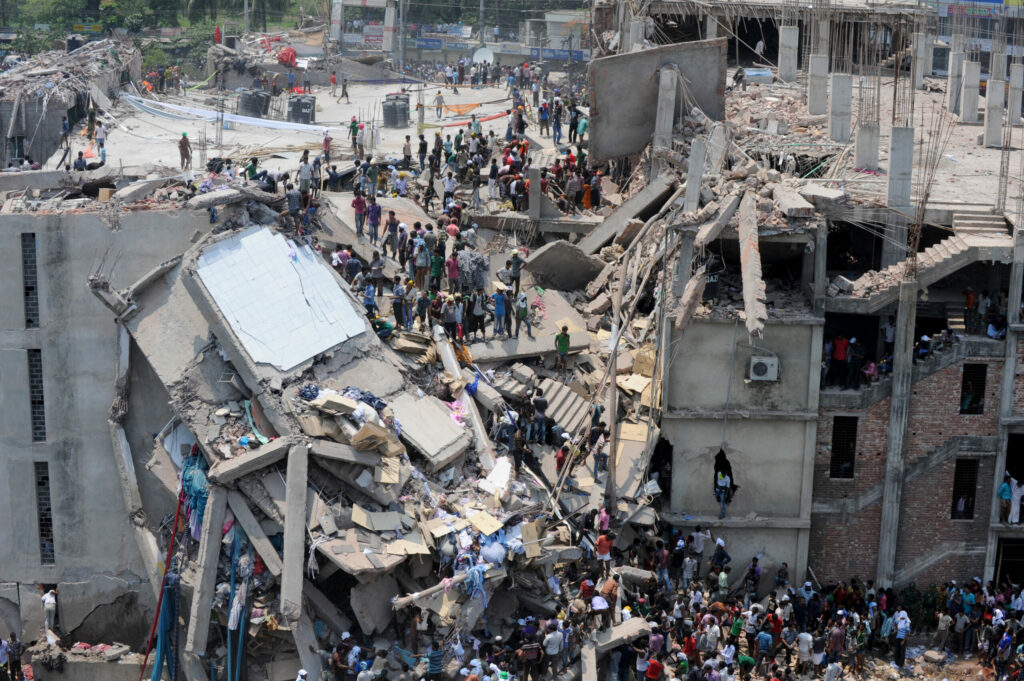 Ten years have passed since the tragic collapse of the Rana Plaza building in Dhaka, Bangladesh, which claimed the lives of at least 1,138 people and injured thousands more. Despite the disaster sparking the establishment of the International Safety Accord, little progress has been made in addressing the systemic issues within fashion's supply chains.
The collapse of Rana Plaza highlighted the absence of safety standards in fashion's supply chains, as well as the power dynamics between suppliers and brands, and the susceptibility of garment workers. Activists have called for more action to be taken on the human impact of overproduction, such as workers being paid poverty-level wages, a lack of transparency, and accountability.
A recent Fashion Transparency Index revealed that 73% of brands do not disclose their approach to achieving living wages for supply chain workers. Furthermore, 87% of brands do not disclose how many of their supplier facilities have trade unions, and 84% of brands do not share how policies or statements on freedom of association are put into action.
Although the International Safety Accord has had a positive impact on registered factories, it does not cover unregistered factories or home-based garment workers, which many brands indirectly employ. Global unions UNI and IndustriALL are urging more brands to sign up to the Accord, which has been successful in Bangladesh but has yet to be implemented in Pakistan.
There is an urgent need for further change to ensure decent working conditions overall and to recognise workers, addressing the power imbalance in supply chains. Social innovation is seen as a key step in tackling the psychological and emotional impacts of overproduction.
Despite the slow progress of change in the fashion industry, there is hope for the future. The industry is slowly moving towards transparency and accountability, with more and more brands recognising the need to address the human impact of overproduction. However, it will take a collective effort from all stakeholders to ensure decent working conditions for all garment workers, regardless of where they are in the supply chain.
The Rana Plaza tragedy served as a wake-up call for the fashion industry, highlighting the urgent need for change. While progress has been made, more needs to be done to ensure that workers are recognised, power imbalances in supply chains are addressed, and social innovation is prioritized to tackle the psychological and emotional impacts of overproduction. Only then can the industry move towards a more sustainable and ethical future.
How can I take action?
If you are a citizen:
If you are a policymaker:
Support better regulations, laws and government policies that require transparency and corporate accountability on environmental and human rights issues in the global fashion industry.
Be more proactive at responding to 'red flags' and risk factors associated with labour exploitation and environmental damage in the global fashion industry.
Read and listen to the viewpoints of workers, communities and experts  in the Global Fashion Transparency Index to inform your policymaking activities. Note that the views presented here are not exhaustive and we recommend seeking out and speaking with other affected stakeholders.
If you are a major brand and retailer:
COPYRIGHT © 2022 ABIGAIL EATON